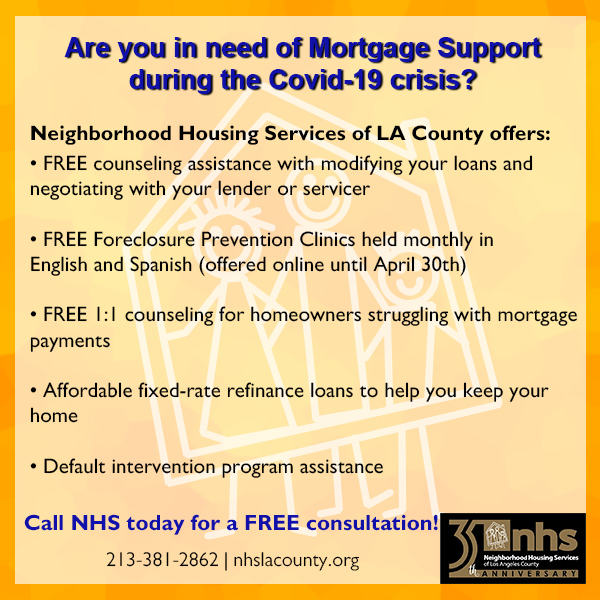 20 Mar

Mortgage Support
¿Necesita apoyo hipotecario durante la crisis de Covid -19?
Servicios de Vivienda del Vecindario del condado de LA ofrece:
Asistencia gratuita con la modificación de su préstamo y la negociación con su prestamista o administrador
Clínicas gratuitas de prevención de ejecuciones hipotecarias que se llevan a cabo mensualmente en inglés y español (ofrecidas en línea hasta el 30 de abril)
I:I asesoramiento para propietarios de viviendas que luchan con pagos de Hipoteca
Préstamos de refinanciación a tasa fija para ayudarle a mantener su casa
Asistencia predeterminada del Programa de Intervención
¡Llámenos hoy para una consulta gratuita! 213-381-2862

Are you in need of Mortgage Support during the Covid-19 crisis?
Neighborhood Housing Services of LA County offers:
FREE counseling assistance with modifying your loans and negotiating with your lender or servicer
FREE Foreclosure Prevention Clinics held monthly in English and Spanish (offered online until April 30th)
FREE 1:1 counseling for homeowners struggling with mortgage payments
Affordable fixed-rate refinance loans to help you keep your home
Default intervention program assistance
Call NHS today for a FREE consultation!
213-381-2862 | nhslacounty.org