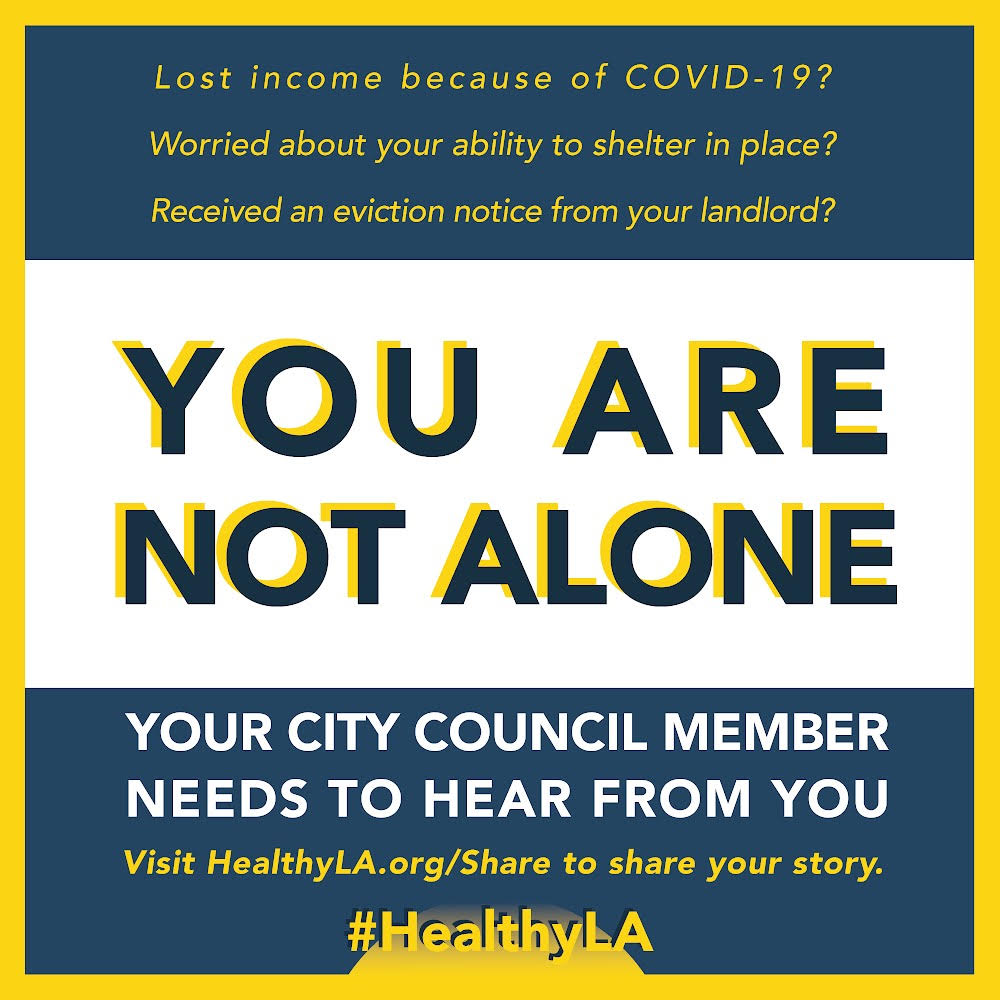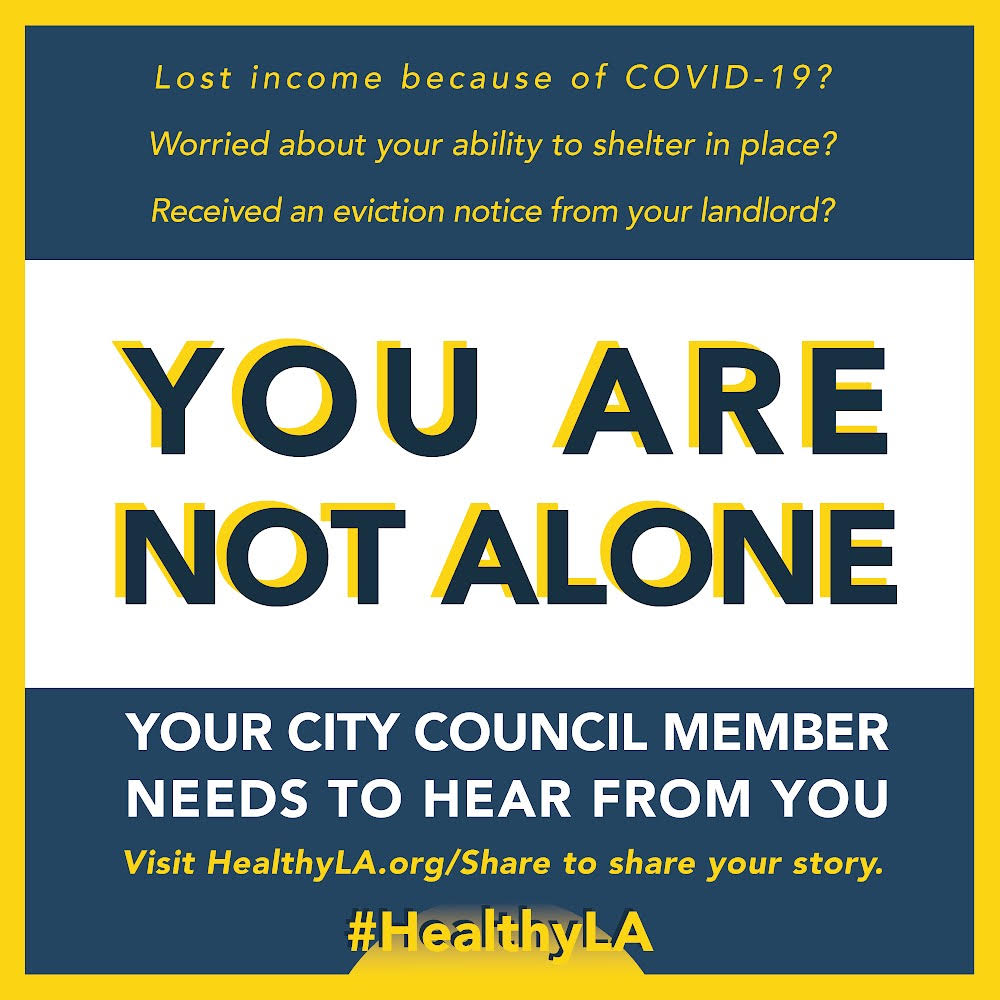 21 Apr

Healthy LA Coalition: Looking out for our fellow Angelenos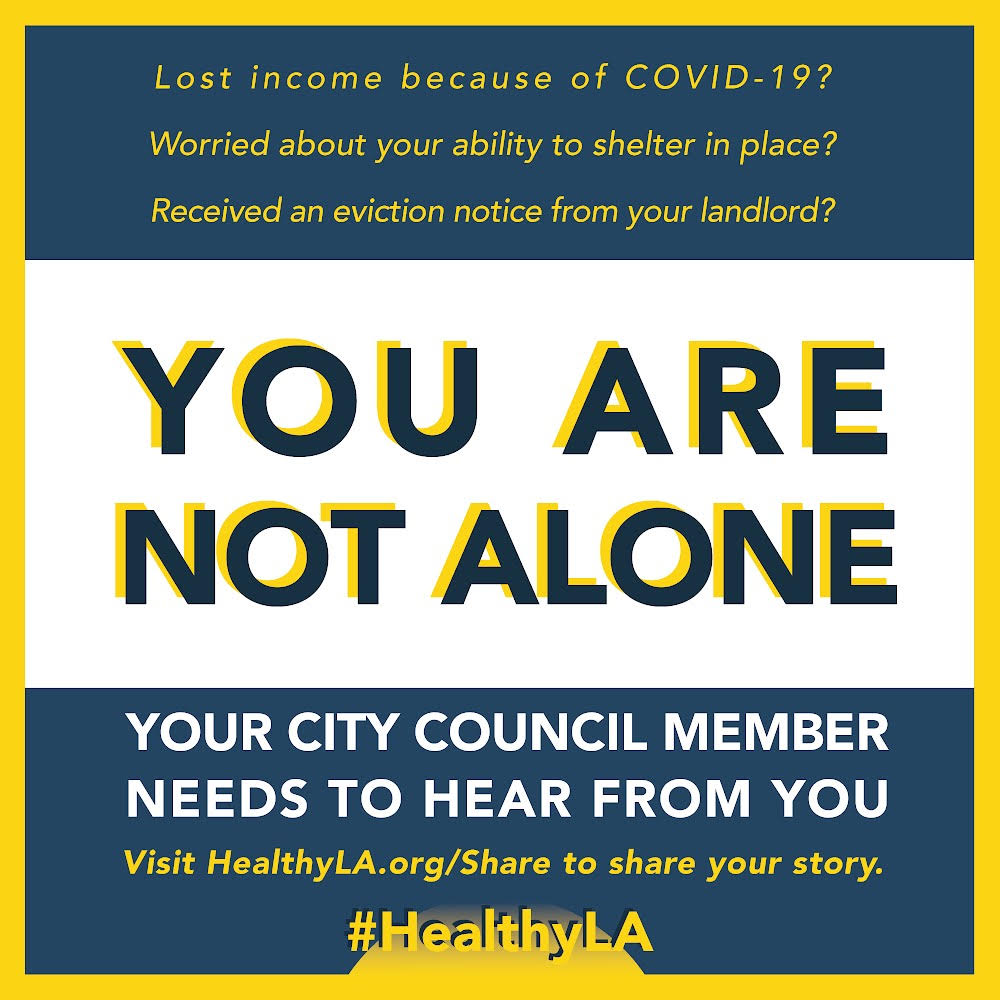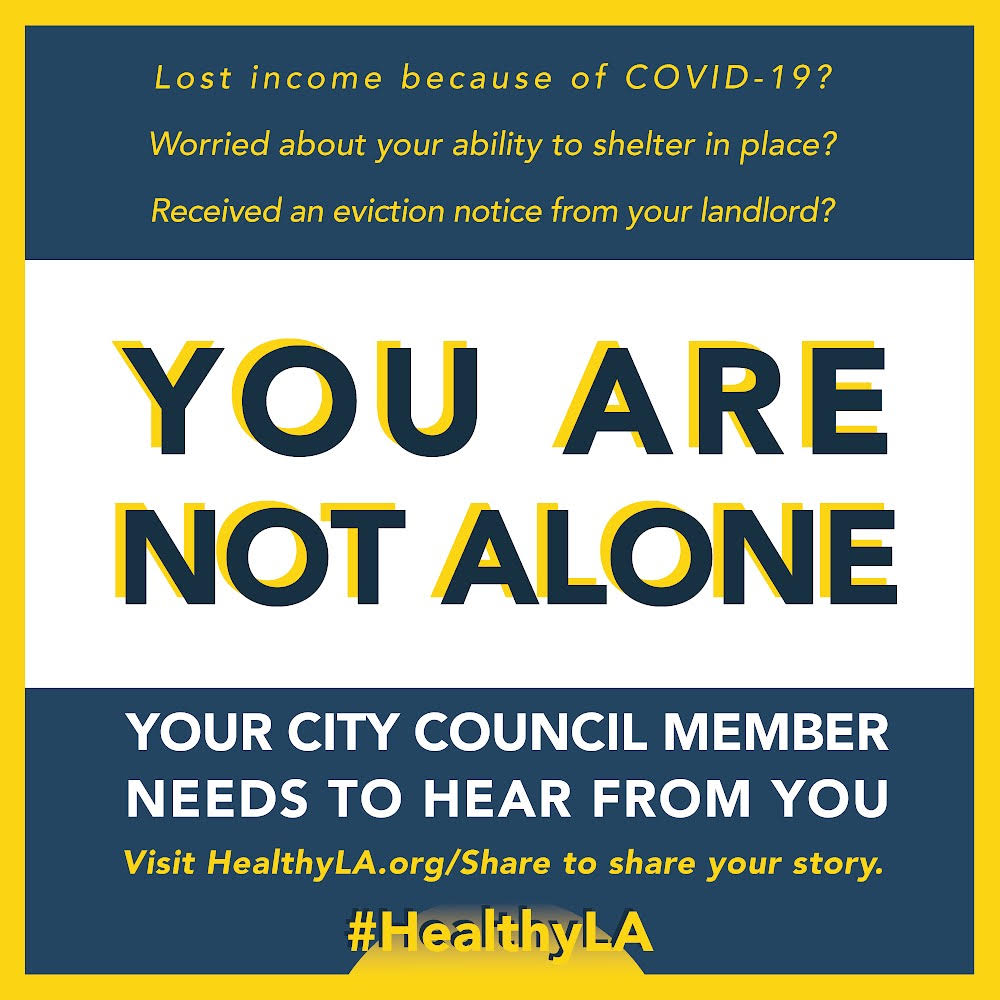 Who are we?
We are a network of 300 advocacy organizations, worker centers, labor unions, service providers, religious congregations, community groups, affordable housing developers, public interest lawyers, public health and safety organizations, and many more uniting to propose concrete solutions to the many hardships caused by the COVID-19 pandemic.
How do we want to help?
Nothing demonstrates our fundamental interconnectedness like a pandemic. Our fates rise and fall together. Our society is now wisely moving to scale back in-person gatherings to stop the spread of COVID-19. This shut-down will cause tremendous hardship for the most vulnerable Californians. People are in danger of losing their homes as the economy grinds to a halt. Service workers and unhoused people run a high risk of infection and lack the space and resources to preserve their health. Immigrants, fearing retaliation, may forgo important preventative care. Our local governments must do everything possible to prevent this health catastrophe from metastasizing into a deeper social and economic crisis, with race and class defining who does well and who does not. There are immediate steps our elected officials can take to begin matching the scope of this emergency, and it requires training our eyes on the right things and the right people.
The right place to look first is to our most vulnerable. Elected and court officials must halt all evictions and foreclosure proceedings at every stage of the process. Losing your home means losing the ability to practice social distancing, to self-quarantine, and to care properly for sick family members. No one should be forced into packed eviction courtrooms to keep a roof over their heads nor should court staff, attorneys, and litigants be congregating for nonessential proceedings. The solution is clear: institute an immediate moratorium on filing evictions and posting eviction notices and place a stay on all trials, defaults, and lock-outs. A citywide rental assistance fund should be enacted for tenants alongside a requirement for banks to negotiate favorable payment plans for residential mortgage holders and cease foreclosure proceedings for the duration of the crisis. Without these protections, we risk forcing hundreds of thousands of Angelenos into overcrowded spaces and unsheltered homelessness. That would be a public health nightmare. No one should need to worry about losing their home when the health imperative is for everyone to stay home.
For those already living without shelter and for those incarcerated, we must do everything possible to ensure their health and safety. LA County's unhoused population, which is disproportionately Black, consists of the most vulnerable — the elderly, people with disabilities and health conditions, and a large number of people with immune systems compromised by the daily stress of homelessness. Three unhoused people already die every day in LA County. The pandemic threatens to make a bad situation much worse. It is important for city government to stop criminalizing the act of people living in their vehicles and tents. These spaces are essential for maintaining social distance and allowing people to stay dry, warm, and well. The government needs to provide health and hygiene infrastructure such as bathrooms and handwashing stations at encampments to prevent transmission of germs. In some cases, this will take the form of direct cash assistance to congregations and non-profits who are already providing restrooms. Officials should provide indoor spaces to allow unsheltered people to get out of the elements and have a safe, healthy place to live. Motels should be repurposed for housing and quarantining. Vacant and underutilized public properties should be opened as access centers to provide services and housing.
We must take steps to address the hardship and suffering working people will face. The city should guarantee workers at least 14 days (80 hours) of additional paid sick leave effective immediately. Workers should be protected from termination without just cause so no one can be punished because they were quarantined or requested sick leave. In addition, established sick day policies should be enforced, especially for those who are misclassified as contractors and deprived of their right to paid sick leave. All employees who are continuing on the job should be guaranteed time to wash their hands every 30 minutes and have access to necessary protective gear. This is crucial for stopping the spread of the virus. Laid-off workers need a guarantee that they will keep their healthcare during — and get their jobs back after — the crisis, even if their place of employment changes ownership. Uninterrupted insurance for workers is crucial for maintaining our collective health.
In the meantime, nothing helps like cash in a crisis. The city should create a fund for people who aren't eligible for unemployment — such as informal workers, street vendors, independent contractors, and freelancers of all kinds — so they can continue paying for necessities like food and housing. It's imperative to increase benefits like General Relief and SNAP food benefits and remove barriers to accessing them. And to keep our whole region resilient, we need small businesses which are a cornerstone of many immigrant communities to persist and flourish. Measures must be taken to protect them such as tax abatements and a temporary moratorium on evictions of small business through commercial leases.
The truth of this moment is the truth of every moment in our society, only moreso. If our goal is for all of us to be safe and healthy, then we train our eyes and resources on those who need the most — this approach is not new. It's called equity. Racial and economic equity is the way forward yesterday, today, and tomorrow, and in this moment, more crucial than ever. Our own health depends on the health of the person next to us, and the person next to them. Ensuring every Angeleno's access to the space, resources, and health services they need is how we take care of each other. Our local governments' actions must reflect this essential truth and rise to the scale of this enormous challenge. This is not the time for half-steps or hesitation. Now is the moment to protect the most vulnerable. When we do that, we protect everyone.
For a list of organizations within the Healthy LA Coalition please visit healthyla.org