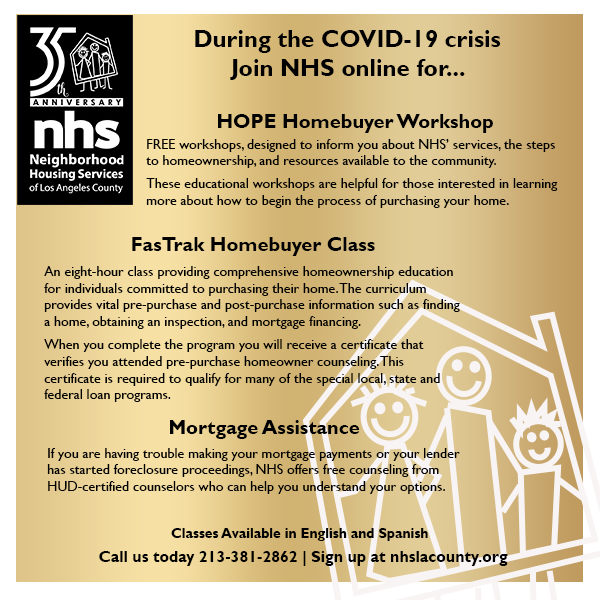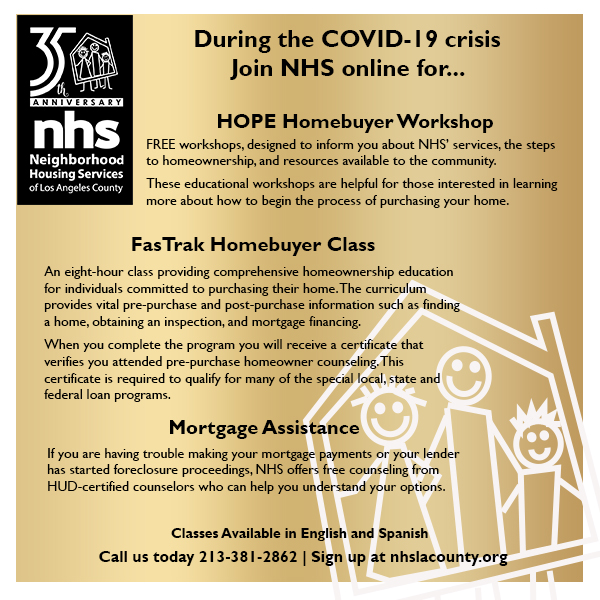 16 Mar

NHS Invites You To Join Us Online!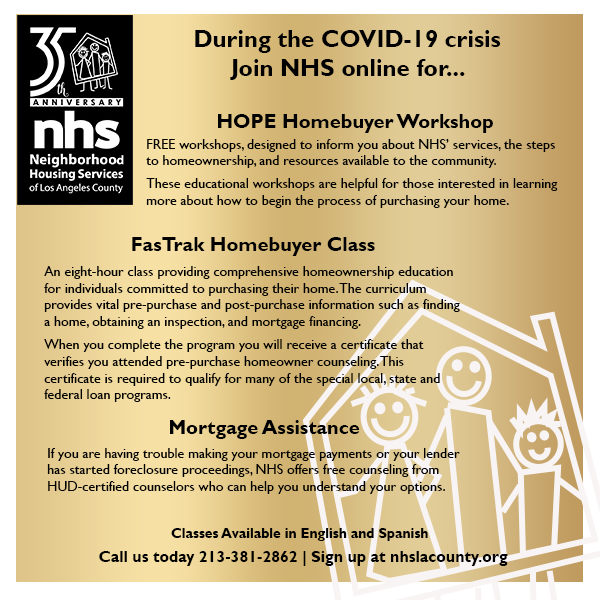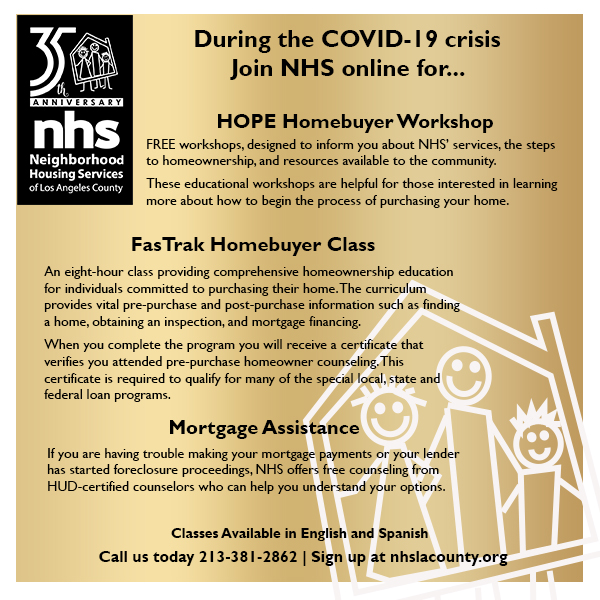 During the COVID-19 crisis join NHS online for…
HOPE Homebuyer Workshop
FREE workshops, designed to inform you about NHS' services, the steps to homeownership, and resources available to the community.
These educational workshops are helpful for those interested in learning more about how to begin the process of purchasing your home.
FasTrak Homebuyer Class
An eight-hour class providing comprehensive homeownership education for individuals committed to purchasing their home. The curriculum provides vital pre-purchase and post-purchase information such as finding a home, obtaining an inspection, and mortgage financing.
When you complete the program you will receive a certificate that verifies you attended pre-purchase homeowner counseling. This certificate is required to qualify for many of the special local, state and federal loan programs.
Mortgage Assistance
If you are having trouble making your mortgage payments or your lender has started foreclosure proceedings, NHS offers free counseling from HUD-certified counselors who can help you understand your options.
Call us today 213-381-2862 | Sign up at nhslacounty.org
Durante la crisis de Covid-19 Unirse a NHS en línea para…
Hope (Esperanza): Talleres para compradores de casas
Taller gratuito, diseñado para informarle sobre los servicios del NHS, los pasos para comprar una propiedad de vivienda y los recursos disponibles para la comunidad.
Estos talleres educativos son útiles para aquellos interesados en aprender más sobre cómo comenzar el proceso de compra de su casa.
Clase de comprador de vivienda 'Fastrak'
Una clase de ocho horas que provee una educación integral de comprar viviendas para personas comprometidas con la compra de su casa. El plan de estudios proporciona información vital previa y posterior a la compra, como la búsqueda de una vivienda, la obtención de una inspección y la financiación hipotecaria.
Cuando complete el programa, recibirá un certificado que verifica que asistió a un 'asesoramiento previo a la compra'. Este certificado es necesario para calificar para muchos de los programas especiales de préstamos locales, estatales y federales.
Asistencia Hipotecaria
Si usted tiene problemas para hacer sus pagos hipotecarios o su prestamista ha comenzado procedimientos de ejecución hipotecaria, NHS ofrece asesoramiento gratuito de HUD, consejeros certificados que pueden ayudarlo a entender sus opciones.